As a journalist, I had always avoided carrying the membership card of any political party, or other lobby group on the basis of maintaining objectivity. While editing energy Daily in 2003, I realised that individual journalists can only gain influence as far as media proprietors let them and that independence might protect your job inside the media, but it will not protect the truth. That apparent anomaly occurs because the principle is not practiced by those with power.
I moved to the northern rivers region of NSW because it has a strong Greens vote (then 10%), high rainfall and rich volcanic soil. It is one of the few places in Australia likely to get wetter under climate change. I ran for federal parliament in 2007, raising the vote by 7 percent and mounting a largely grass roots, social media campaign.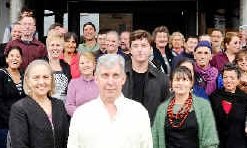 I served on various committees at a state level and became deeply embroiled in the Green politics which has recently (2017) raised its ugly head again. I ran for federal election four times, once against Prime Minister Kevin Rudd in 2013. I maintained active involvement in The Greens until 2016, resigning as convenor of the Qld Campaign Committee, and South Brisbane Greens, member of the management committee and the State Delegate Council.
The basis on which I joined the Greens was to "shine my light where it was darkest". Fourteen years later, I have recognised that while that principle has some virtue, it is also important to allow your best light to shine. I have returned to coding, and to Griffith University to rediscover those throughlines that resonate most for me personally and where I can have the greatest impact.